Doing it for themselves: a proposal for women-led needs assessment data collection in Vanuatu

5 minute read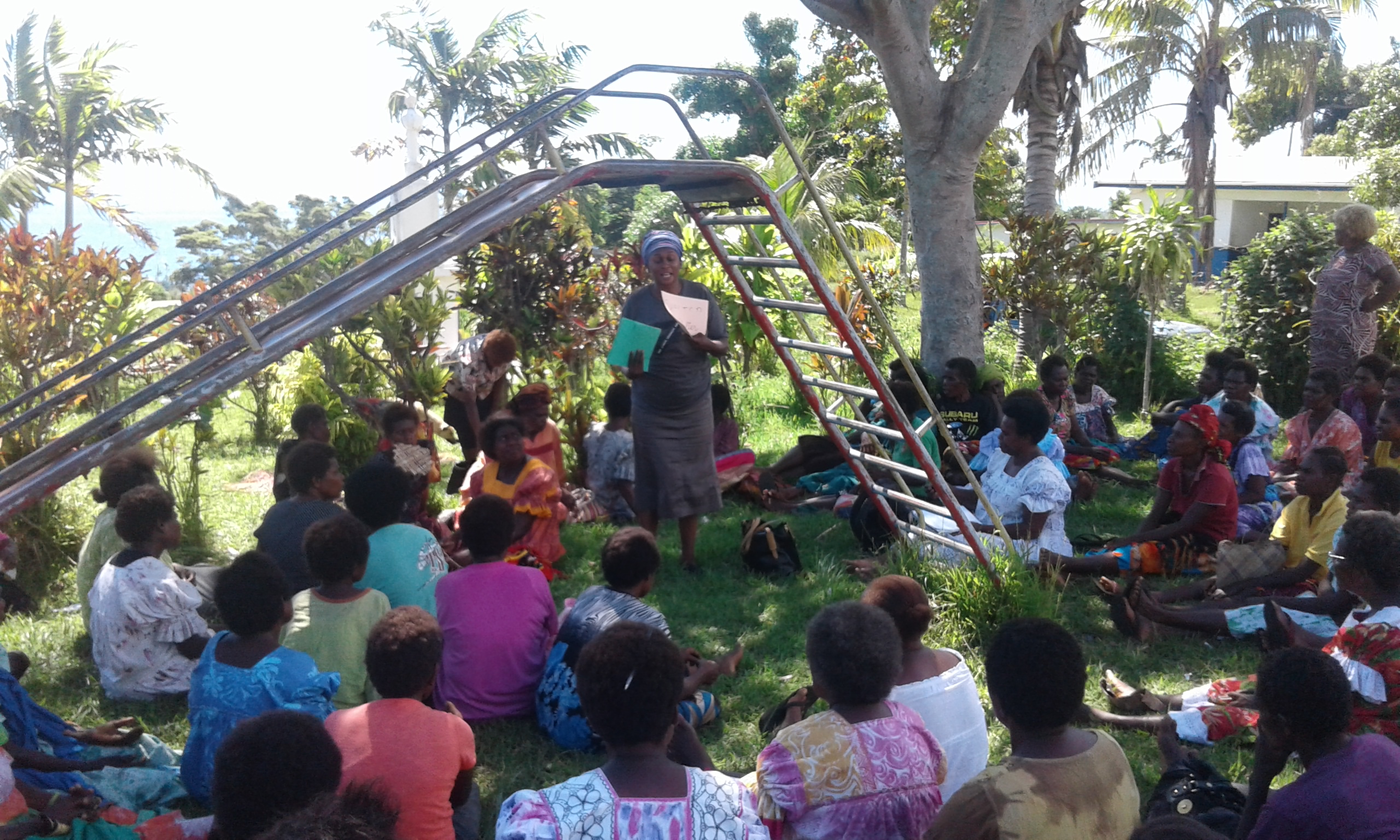 WITTT forum in Vanuatu 2015. Photo Credit: ActionAid Australia (2015)
Last month, SIMLab visited Canberra, Australia, for a whirlwind two-day workshop as finalists of the Pacific Humanitarian Challenge. Together with ActionAid Australia, we worked to refine our proposal: to support Ni-Vanuatu women exchange critical needs assessment and humanitarian response information with the Vanuatu government in the event of an emergency. The Challenge is funded by the Australian Department of Foreign Affairs and Trade (DFAT) through the Innovation Xchange. We'll know soon if our proposal will be funded, but we wanted to share our experiences so far, and how we put a project like this together.
Women's leadership forums as community knowledge hubs
In Vanuatu, ActionAid Australia runs women's community forums, created after Cyclone Pam devastated the country in February 2015. The "Women I tok tok Toketa" forums (WITTT)– which translates to 'women talk talk together,' – were created as a new kind of emergency response. The forums, located in two districts of Vanuatu, convene women to voice concerns about their communities and provide an opportunity to identify solutions and be heard by others. They strengthen Ni-Vanuatu women's leadership and voice in defining the community's needs, paying particular attention to protection mechanisms necessary to prevent and respond to violence against women during emergency responses. After Cyclone Pam, the forums provided an opportunity to use the power of information to support women to demand the things they needed to realize their rights after the disaster, and hold the government and humanitarian sector to account to recognize, value and respond to women's priorities.
We felt there was an opportunity to build on these forums to strengthen disaster preparedness, particularly for women, who are more vulnerable in times of disaster. Following last year's Cyclone, a national workshop convened by the Vanuatu National Disaster Management Office (NDMO) recommended multi-channel communications channels, supported by a national web platform, to improve preparedness and coordination at the community, provincial and national levels. There was also a strong recommendation to identify female champions to inform policy and make changes to protect women in disasters, and mitigate the lack of significant female representation on disaster committees and groups. Women are disproportionately affected by disaster: 80-90% of deaths in the Bangladesh Cyclone (1991) and Asian Tsunami (2004) were women.
Together with ActionAid Australia and NDMO Vanuatu, we put together a proposal for a gender-sensitive program to support WITTT members strengthen data collection and leadership in emergencies, and to build a web-based dashboard to manage rapid needs assessment data in the event of an emergency.
We developed the project with three basic principles in mind: to ensure that everything we did would be context-appropriate; to put women at the center; and to begin and end with learning.
Understand Context
We plan to start the project with an information and communications needs and habits analysis with WITTT members, in consultation and collaboration with NDMO and the Vanuatu Department of Women's Affairs (DWA), who have been an active partner in supporting WITTT. We do this with as few pre-conceptions as possible: as our CEO, Laura McDonald put it, "it's hard to make basic statements about women's use of technology in developing countries with great confidence." We'll seek to understand what technology Ni-Vanuatu women use, how they communicate, and what systems and coping strategies were employed during and after Cyclone Pam. The goal is to get a realistic, context-grounded sense of the types of ICTs and more basic communication tools that can be used to reach women and remote communities, including during emergencies where basic infrastructure is often disrupted.
Put women at the center
Democratizing data collection and closing feedback loops will help the NDMO to more quickly source needs assessments from disaster-affected areas, which can be shared with humanitarian clusters and the Vanuatu Humanitarian Team (VHT). Information collated by NDMO will be fed back into communities along with life-saving humanitarian information, making communities agents in their own recovery and supporting them as active participants in advocacy and long-term policy change.
Ni-Vanuatu women leaders will submit needs assessments, an approach called "crowd-seeding," which will reduce superfluous data generated from unstructured crowdsourcing. Women's locations will be known and logged, so that their data can be mapped as it comes in without needing GPS data. Women will practice and refine their skills by submitting baseline data throughout the project, which will help them strengthen data collection skills, and assist in testing our innovation all while creating robust, and regularly updated baseline reports. We will work closely with women leaders in the initial pilot in two of the six provinces, with each province covering strategic localities, teaching basic data collection and reporting practices.
Learn from our work
SIMLab and ActionAid are committed to learning and sharing our learning with others to increase positive outcomes in programming. In putting this project together, we reached out to others who had built aggregation dashboards for emergencies, spoke with UNOCHA about what was being done with data in emergency response, and researched tools and devices being used in emergencies to facilitate communication and stitch together infrastructure. If the project is funded, we will continue to share our findings throughout the project lifecycle: from regular blogs during the project, to a case study and an event near the end of the project to identify and capture key lessons from the implementation. We'll also host a regional replication workshop to build action plans to replicate the project elsewhere in the Pacific.
Watch this space for news on our project! In the meantime, we'd love to hear from you, especially if you've worked in similar contexts and have lessons to share, or are looking for collaborators.