Our brown bag lunch and podcast: Mobile money in the last mile

7 minute read
The discussion is available for download as a podcast via iTunes or Soundcloud , and we expect the insights gained will be valuable for the international development and tech community for practitioners and beyond. Releasing the event as a podcast is an experiment in providing resources for the community that live on beyond the work itself—let us know what you think in the comments!
Mobile money in rural, low infrastructure communities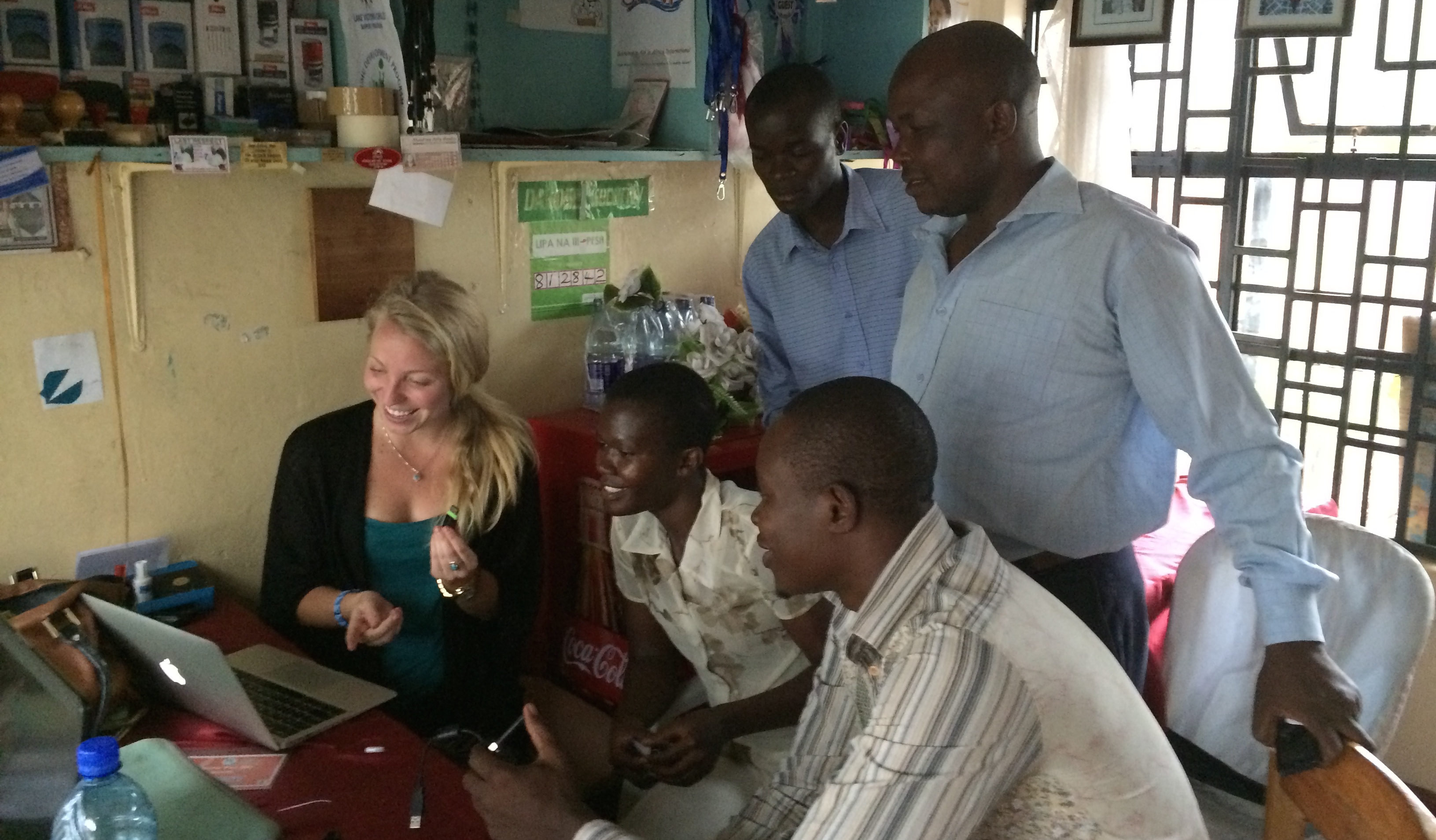 The event marked the release publication of our case study titled:SIMLab's experience in Kenya: Implementing a mobile money management tool and training approach in the last mile It covers the first direct technology implementation project ever carried out by SIMLab's first ever direct project implementation, and it and the project were funded by the Global Poverty Action Fund of the UK Department for International Development. SIMLab ordinarily supports other organizations to use inclusive technology in their work, and usually works with local partners together with other actors from the international community. For this project, we built on our presence in Nairobi to work directly with Kenyan organizations, and had the opportunity therefore to gather learning and data. Needless to say, there were numerous lessons learned throughout the two-year grant, which comes to an end in December 2015.
The anticipated outcome of the DFID project is to reduce poverty in low-income areas of Kenya by providing mobile money management tools to organizations and small to medium-sized businesses (SMEs) who had not yet taken up mobile money. At the outset, the grant was inspired by our desire to build better 'middleware' to support these types of organizations to begin using mobile money, based on FrontlineSMS, and called 'Payments.' During the course of the grant, our relationship to the software shifted slightly as SIMLab spun out FrontlineSMS as a for profit. This allowed our definition of success to broaden from being product-centric to process- and learning-focused, and we were able to support more mobile money platforms including those provided by the operator, Safaricom.
The DFID GPAF project was extremely valuable to SIMLab as it allowed us to interface directly with the tools we and FrontlineSMS created, and more importantly the tool users (organizations) and the people the tool was meant to affect. The relationship gave us the opportunity to gain a deep insight into the realities and unique contexts of last-mile organizations as we guided them through the process of adopting mobile money. Through this high-touch work, which included organizational development and strategy, communications, and technology training, we observed the barriers encountered by organizations in operationalizing mobile money. We worked with 40 organizations throughout the grant whom we expected to go through similar hurdles, successes and timelines in their journey to becoming cashless. What we found, and reported in our case study, was that the barriers to adoption were far higher than we'd thought, and the requirements of a successful project in terms of support and staff times were similarly large.
The Panel
Our findings, while sobering, were much less controversial for the other panelists than we'd imagined. Overall, we agree that even in a country where 90% of households have access to mobile money, introducing mobile money into businesses and operationalizing it, as Leo Tobias rightly argues, is "terribly complicated." This narrative is typically overpowered in much of the writing about mobile money, by the one which casts Kenya as a mobile digital economy, the 'Silicon Savannah', and a country where physical cash is something of the past. The success stories we read in news articles and international development blog posts accurately describe the prevalence of mobile money, but the use cases they discuss are often derived from the 'low hanging fruit'—the urban middle class, where mobile money is indeed common, convenient and accessible. What our case study uncovers is the story that's less often told: that of the struggle, the vast amount of human interaction, motivation and problem-solving required to get mobile money adopted in so-called 'last-mile' communities—places where infrastructure, technical capacity and the agent network are weak.
Essential learnings
This work is high-touch
During the panel, both Grameen and SIMLab described the vast amount of training and hands-on work that is required to integrate mobile money systems with everyday operations in last-mile organizations. We have seen that the outcome of simply supplying software platforms with little support tends to be misuse, confusion and ultimately a failure to shift systems and sustainably implement new technologies. However, the organizational development work needed to break down barriers to adoption is unfashionable, and contradicts the popular view (and desire) which sees technology innovation as low-cost and exponentially scalable. The organizational development needs of partners are, in our experience, often overlooked and under-budgeted.
People matter
Motivation, trust, and comfort with change all matter and without tailoring services and training to fulfill the needs of people, adoption will be stifled. SIMLab has had success by identifying and empowering local changemakers who have been able to significantly propel adoption and trust. A local advocate and peer support network can support organizations and community through change and increase resilience over time.
Software is tough, hardware is tough, markets are tough
All four panelists spoke to the challenges of the mobile money companies and more broadly, about mobile network operators in frontier markets as being difficult, if not impossible to work with. Sean McDonald described Frontline's long-term mode of engagement, helping organizations to avoid working directly with mobile network operators (MNOs) by using consumer accounts, effectively, as APIs. The lack of standardization across handset manufacturers and Android operating systems make third-party development an overwhelming challenge here, which likely has an effect on the low number of value-added services (VAS) in the mobile money space, limiting competition to the detriment of users.
Shifting funding responsibilities
Kay McGowan responded to the question of what can be done to translate success stories of the urban middle class to the last mile, Kay argues that greater support by the public sector is what the last mile needs. Where economic incentive is lacking for MNOs, for example in developing APIs and pushing agent networks out to the last mile, the public sector has a responsibility to step in, to provide the infrastructure, regulations and governance that would stimulate the business lines that have become infrastructure. All panelists echoed Sean's statement that underserved areas need to be disproportionately supported in the high-touch interventions they require for successful adoption, but that costs money, time and largely, a realization from donors that it's a priority.
We just aren't there yet, but it's where we're heading
Success stories in tough areas are few and far between, but they are possible and we're quickly learning what it takes to achieve success in challenging contexts. We are building up the experience and knowledge required to make this type of work more reasonable and effective. We as a sector need to continue to state the problems clearly and voice our disenchantment with the status quo. To those of us on the ground, it may seem like we're still far from winning—but compared to five years ago we've made considerable progress. Success stories in urban areas were front page stories, now they're commonplace; progress is happening, but it happens in pockets and in waves, and we must continue to demand that funding and time go to vulnerable communities.
The future?
For us at SIMLab, the Brown Bag Lunch affirmed our approach and conviction that the last mile needs special treatment—and was a fantastic opportunity to share our experiences with the larger development community. It was reassuring to see we are not the only ones experiencing difficulties in last mile change management, and that these problems are very much on the minds of international organizations many of us in the space. The insights gained on the type of work the development sector needs to push forward in order for us to reach a point where appropriate solutions are available in challenging contexts were promising and seemed tangible. There are ambitious goals on the horizon of the international development community: the World Bank is aiming at universal financial access by 2020, and to reach this goal international development agencies and development banks are going to have to pay a disproportionate amount of attention to building infrastructure, regulatory conditions and governance in underdeveloped geographies and markets.
For more insights and to hear the discussion for yourself, tune in to our iTunes podcastor on Soundcloud! And don't forget to let us know what you think.